Camphill School embark on a decadal development plan
December 15 2021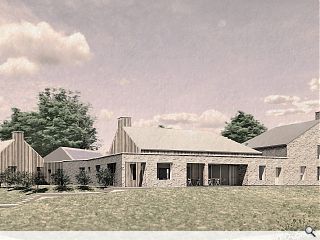 Collective Architecture has prepared plans for a residential care home in Aberdeen on behalf of an independent charity supporting children and young people following a competition win.
Camphill School Aberdeen proposes to build a seven-bed residential care home for young adults with learning disabilities in the first phase of a 10-year development plan which will see it refurbish and replace its premises on the Myrtle Estate campus.
A design team including Rankinfraser; Atelier Ten and David Narro Associates has been assembled to reassess this ad-hoc development of 37 residences, workshops and learning facilities scattered around the original Myrtle House.
Maximising the potential of the riverside setting the consultants will promote a public-facing facility while establishing a central open space at the heart of the campus. The first phase of this effort will be a woodland residential unit that foregoes the y-plan layout favoured by existing premises for spatial organisation in favour of an enclosed courtyard 'steading'.
Drawing on simple forms with pitched roofs and robust materials the architecture draws on a vernacular approach to root the campus in its locality in a contemporary manner while helping to establish a 'Home form Home' environment.
In a proposal statement, the architects wrote: "Proposed elevations strike a balance of being playful yet restrained. Within both private and communal spaces windows have been carefully positioned to frame views both externally and internally.
"Large openings are carved into wrapping masonry walls, allowing light to penetrate deep into the courtyard whilst maintaining a gentle protective layer, boundaries being defined by masonry walls, seating or low-level hedging. Courtyard walls have elements of perforation allowing dappled light to enter spaces, and helping to provide a further layer of protection, capturing both views and light, whilst providing spaces to retreat to, minimising over-stimulation."
The metal roofscape has been carefully considered to reflect the changing activities below with chimneys at key gables housing ventilation extracts, contrasting with the use of stained timber cladding and clay brick.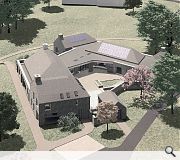 A courtyard form provides secluded outdoor space for residents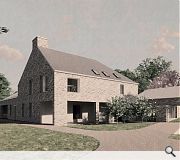 Selective use of colour will pick out window frames and shutters
Back to December 2021