Social enterprise distillery to rejuvenate dwindling Moray community
December 14 2021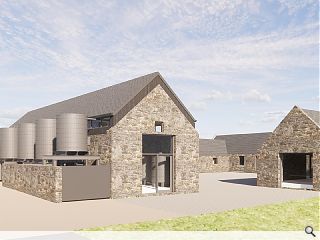 The Cabrach Trust has come forward with plans to repurpose a disused farm into a distillery and visitor centre.
Proposals call for the restoration of Inverharroch Farm in Moray by turning its stone steadings into a distillery and warehouses as well as a heritage centre, community bistro, tasting room, and visitor reception.
Operated as a social enterprise the business aims to rejuvenate a community that has fallen to just 100 people by boosting the local economy.
In a statement, the trust wrote: "We will be creating a Heritage Centre, cafe and shop to present the story of illicit distilling and smuggling, showing how it shaped and formed the modern Scotch whisky industry we know today.
"The centre will illustrate how the narrative was shaped by the landscape, climate, geology, geography and natural resources combined with the entrepreneurship of the Cabrach's people. Our Heritage Centre will tell the story of The Cabrach, from its earliest inhabitants through to the devastating impact of twentieth-century conflicts.
"The Heritage Centre will be a venue for exhibitions, live performances, educational programmes and events. A programme of events will unlock the secrets of the area, from Jacobite rebels to the illicit whisky 'bothies' which housed illegal stills and made some of the finest whisky in Scotland."
Collective Architecture will oversee the design of the distillery, which is expected to break ground in February having received £3.5m from the Ethos Foundation among others.
Back to December 2021