Graeme Massie set fair for Kolkata
October 22 2008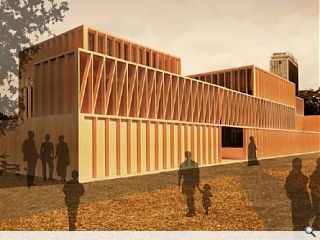 Hot on the heels of the successful "Gathering Space" exhibition comes another pavilion to represent Scotland. Graeme Massie Architects have been confirmed as first prize winners in an open competition organised by the Lighthouse on behalf of the British Council to anchor the Kolkata Book Fair 2009.
The Kolkata Book Fair attracts over two million visitors each year, making it the most visited book fair in the world. Each year a theme country is nominated and Scotland will receive this honour in 2009, reflecting its international literary standing. As a result the pavilion will be the largest and most central at the Book Fair. Building on the opportunity of heightened interest in Scotland as a result of the Book Fair, the British Council will subsequently create a year-long programme of educational and cultural activity and exchange between Scotland and Kolkata under the title 'Scotland and Kolkata Connections 2009'.
The competition winning proposal aims to produce a pavilion whose character responds to local construction and manufacturing traditions in a meaningful and contemporary way. The design combines the development of a tectonic language from modern timber construction methods with an exploration of jute textiles – a material common to India and Scotland – as a means of defining spaces.
Externally the exposed structure creates an ordered rhythm to the facades, intentionally imparting a calm and still presence within the Book Fair, internally the combination of exposed timber and filtered light creates an adaptable series of rich contemplative spaces. The pavilion is intended to provide an exemplary sustainable solution, and can be relocated elsewhere at the conclusion of the year, or fully recycled.
Graeme Massie Architects are currently working with the British Council to develop the design, with the pavilion due to open on 28th January 2009, the first day of the Book Fair.
Back to October 2008