Bright future for historic museum
October 22 2008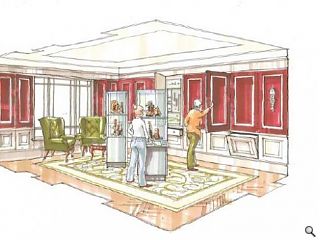 Edinburgh based Bright 3D, experts in the creation of inspirational visitor experiences, has won the contract to transform the 16th century Abbots Hall at The Museum of East Anglian Life (MEAL) and integrate unused areas of the estate into the overall visitor experience.
Situated in 75 acres of Suffolk countryside, the museum is the main tourist attraction in the area and plays a vital and active role in the community. It is also home to Abbots Hall Enterprises, an award winning social enterprise providing training and skills development which runs volunteer and education programmes, the only one of its kind based in a UK museum.
Abbots Hall, which is a Grade II listed building, will become the centre point of the museum and will be the start of the visitors' journey. Each room will provide a different experience, taking people through different aspects of East Anglian life and linking themes in the museum to modern issues such as climate change and cultural diversity. Abbots Hall is the first phase of a long term plan to develop the whole site. Interpretation will be developed and introduced to address a very wide range of social issues in a way that will be unique for a museum facility of this kind.
Sustainability will be investigated through design and sourcing products with sound environmental credentials. It aims to use locally sourced products and services as well as working with local companies and crafts people throughout the museum development.
Ewan McCarthy, creative director, Bright 3D commented: "We firmly believe that winning the contract for the development of the Museum of East Anglian Life is based on a deep understanding of the client's innovative objectives and how to engage the visitor whilst preserving the historic function of the museum. We want the museum and estate to tell its story, and for visitors to be curious, explore and discover for themselves. This experience will be created by a mix of media and hands on interactive elements throughout the museum ensuring there is something for everyone and making everyone's visit truly memorable."
Tony Butler, Director at the Museum of East Anglian Life said: "What impressed us about Bright 3D was their passion to create an environment that is more than just a museum. It is so important to preserve this historic estate but also provide a modern day experience that allows people to discover their own heritage. Our aim is to develop a great centre for education and learning that embraces social inclusion. We also want to create a hub for the community and help drive the regeneration of the area and we will achieve this working with Bright 3D as our partner. "
Back to October 2008