Shared pedestrian cycle bridge to connect Robroyston & Millerston
December 1 2021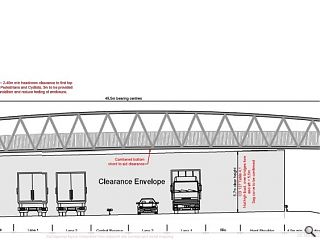 An application has been filed for a shared pedestrian and cycle bridge over the M80 at Robroyston, connecting the northern and southern elements of a planned 1,600 home housing estate.
The single-span steel structure will require significant earthwork engineering at both ends to create a ramped switchback approach with stepped access cutting through the middle.
In an engineering statement, Beaver Bridges wrote: "At the proposed crossing the M80 is higher than the adjacent land parcels, with both sites falling away perpendicular to the road. To create a softer engineered solution for the approaches, the proposed ramps up to the bridge are formed in earthworks for their entirety and have been set out in a switch back-formation.
"This arrangement allows the stepped access to become a direct route, crossing the ramp."
A master plan by GD Lodge Architects has been created for land around Robroyston Station with Barratt and David Wilson Homes bringing forward hundreds of homes between Robroyston and Millerston.
Approval in principle is being sought from Glasgow City Council for the link, which mirrors a more ambitious structure designed to augment the regeneration of Sighthill.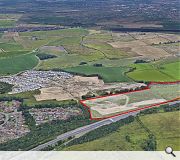 An acoustic bund and structural planting are planned for the M80 boundary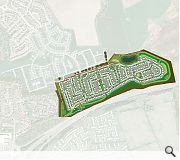 Hundreds of homes are being built around the newly opened Robroyston Station
Back to December 2021