Architecture blossoms with war of the Roses
October 21 2008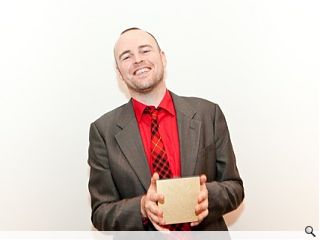 This years premier architectural awards, the Roses Design Awards 2008, took place at a star studded evening of entertainment within the Beetham Hilton, Manchester.
Well designed buildings provide a more fulfilling experience for designer and user from the humdrum mediocrity of the everyday, their story must be told. That story was relayed in the language of high drama in a spectacular night of celebration as the great and the good of the architectural community gathered to appreciate the best in contemporary architecture from out with the M25 belt.
An expert panel of acclaimed architects were assembled for our judging panel including Phil Griffen at Spoken Image, Charlie Hussey of Sutherland Hussey Architects and Hannah Lawson of John McAslan & Partners, all overseen by the chairmanship of Neil Gillespie of Reiach and Hall.
This year the elusive Architecture Grand Prix for the "best in show" entrant was awarded to the Best Low Cost Project winners, Dualchas Building Design who revelled in a double whammy of glory after scooping a rare joint accolade for their work.
Phil explained the judges rationale: " I've always been intrigued to see small houses on the Isle of Skye, it excites me to see this fine architecture in a north British context, it makes me think of northern Europe or Scandinavia. The fact that you're living in the middle of a city as I do you lose sight of the fact that there are lots of beautiful examples of vernacular architecture. I really, really like that. That really appeals to me."
"I think a lot of the larger commercial schemes this year have been disappointing, there has been nothing as exceptional on the large scale, for instance last year the Grand Prix winner was the Denton Corker Marshall scheme at the Civil Justice Centre in Manchester and that was clearly an exceptional building. I like a lot of the smaller schemes in other categories this year; it has been the smaller schemes which have grabbed my eye."
Charlie added: "The idea that someone is working quietly away doing really nice, modest, low budget stuff… I think that sends quite a good message about these little remote buildings in a landscape, it doesn't really matter whether it's this one or that one.
Neil commented: "There is modesty in a lot of the proposals, maybe that is more of a modern attitude. Inevitably smaller projects are easier to convey in awards, they're easier to take on board and understand. Larger projects are much more difficult to comprehend. This is a private conversation between spaces, you can hardly get more poetic."
As the sole nominee in the Events category Collective Architecture's Gillespie, Kidd and Coia Exhibition was perhaps pre-destined for a win. Conscious of the diluted effect of a coronation however our judges elected to ascribe the Architecture Chairman's Award instead in recognition of the exhibitions considerable achievements.
The award for Best Public Building went jointly to gm+ad whose work on Hazelwood School is reviewed by Peter Wilson this issue and the Beatson Institute New Cancer Research Unit by Reiach and Hall, Neil was politely ushered from the room during these deliberations! Malcolm Fraser Architects meanwhile earned silver in the Best Regeneration category for Berwick Workspace BCA Landscape picked a silver Best place Making medal. Best Proposed Building and silver went to Studio DuB for Dingleton Boiler House and Weedon partnership garnered a bronze for the Aston martin Design Studio.
Luke Thurman must have felt a sensation of déjà vu as he again walked off with the Emerging Architect of the Year award, following his win in the Scottish Design Awards earlier this year. His success was compounded by the award of a gold medal for Best Residential Project for JM Architects and Highmore Homes scheme on Cumbernauld Road, for which Luke was project architect.
Of the scheme Hannah lauded: "I like this because it responds well to the problem of high density urban housing for the Wimpey's of this world… that's a very difficult thing to do with the type of client and probably the budget constraints they had. Architecturally however I lean to the Dualchas homes because they are just exquisite."
Phil also singled out this scheme for praise: "This is a roll out, this is a product. This is something that people asking questions in Whitehall can get answered looking at this. It's not the answer to the late John Prescott's dreams, I'm not saying that but there are actually things that you can start to extrapolate further. That's extremely good work I would suggest."
Lee Boyd's work on the refurbishment of 110 St Vincent Street earned the company a silver in the Best Interior category while the practice sprang a second silver for their restoration of Garrison House and grounds. In a dry year for gold's Foster and Partners secured a silver medal for their Quartermile development at Edinburgh , joined by Elder and Cannon who celebrated nabbing a silver for best Re-use of a Listed Building in the form of Castlemilk Stables.
The Roses celebrate and promote the best in contemporary design. In an often cut throat commercial world it is all too easy to slip into adequacy, fulfilling a brief without recourse to flair and pushing the envelope. The developments featured here avoid this pitfall, that they do is a tribute to the energy, professionalism and dedication of both client and architect.
A full list of nominations and images are available on our website,
www.rosesdesignawards.com
or by contacting:
Katy Thomson, Events Manager
katy.thomson@carnyx.com
0141 559 6062
Back to October 2008