Scotland & Venice share 10,000 wishes for a better world
November 19 2021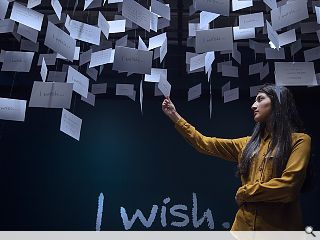 The Scotland & Venice Partnership have revealed the wishes, hopes and dreams of 10,000 visitors to the What if...? V&A Dundee exhibition ahead of its closure on Sunday.
Thousands of visitors shared their thoughts for the future by depositing messages in a wishing well calling for improved access to green space, nature and parks; better public transport and a stronger sense of community.
Created by 7N Architects the exhibition was originally destined for the Venice Architecture Biennale but hastily relocated to Dundee at the onset of the pandemic to prioritise a more local agenda and re-engage design professionals with the communities they serve.
Popular responses ranged from more green space (as cited by 29% of respondents) to improved transport (11%), better amenities (10%), a stronger sense of community (8%) and more opportunities for active travel (7%).
Jim MacDonald, chief executive of Architecture and Design Scotland said: "What if…?/ Scotland gave voice to many citizens from across the country, and the exhibition is particularly powerful because it shows the impact of designers, architects and citizens coming together around a wish, a hope or a dream for a place showing how crucial it is that we put people at the heart of our places."
Following the What if...? exhibition the V&A Dundee has announced that it will join the Scotland & Venice Partnership to promote artists and architects on the world stage, beginning with a return to Italy next year with a solo exhibition of new work by the artist Alberta Whittle.
Back to November 2021