Venice Biennale: What If?
22 Jul 2021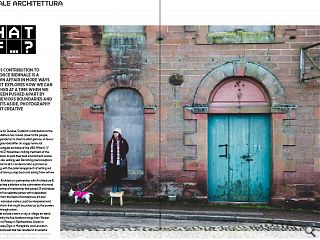 Scotland's contribution to the 2021 Venice Biennale is a homegrown affair in more ways than one. It explores how we can live together at a time when we have all been pushed apart by casting previous boundaries and constraints aside. Photography by Bash Art Creative
By swapping Venice for Dundee, Scotland's contribution to the 2021 Biennale Architettura has moved closer to the people, capitalising on the pandemic to shed its elitist glamour in favour of a notably more grounded affair on soggy home soil.
Held within the angular embrace of the V&A What if...?/Scotland will run until 21 November, inviting members of the public through its doors to post their built environment wishes in-person to an on-site wishing well. Banishing preconceptions and opening the door to all it is as democratic a process as possible, dispensing with the paternal approach of setting out solutions in favour of taking a step back and asking 'How will we live together?'
Curated by 7N Architects in partnership with Architecture & Design Scotland the free exhibition is the culmination of a novel one-to-one programme of mentorship that paired 25 individuals chosen to represent five separate places with a dedicated companion drawn from the fields of architecture, art and design. In this way, individual wishes could be interpreted and conceptualised in a form that might be picked up by the powers that be for follow-through action.
With places that include a town, a city, a. village, an island and a rural community the five locations range from Wester Hailes in Edinburgh to Paisley in Renfrewshire, Annan in Dumfries and Galloway, Elgin in Morayshire, and Lerwick in Shetland; seeding a process that has resulted in an eclectic melting pot of ideas ranging from a night market to boost the after-hours economy of Elgin to a pop-up theatre in Annan. Documenting the grassroots process, a series of short films by Basharat Khan seed further discussions among visitors with the exhibition environment itself designed to inspire and encourage quiet reflection of what is possible when we are freed from all constraints.
Speaking to Urban Realm at the launch project lead Ewan Anderson of 7N Architects said: "I'm pleased it's here. I was initially disappointed that it wasn't going to Venice but it just makes so much sense beyond the Covid restrictions. Fundamentally this is about advocacy and making the case for more direct involvement between architects and communities to establish a shared vision and how that can gain more traction in the planning and delivery process."
This collegiate approach stands in stark contrast to the combative nature of the planning process which can place design professionals at loggerheads with the communities they work in, widening a gap between the profession and the public. Anderson said: "You could view the planning process as a fundamentally confrontational process. Rather than proposals being put forward and people reacting to them wouldn't it be better if local place plans came out of proper community engagement? Not just 'what do you think about this proposal?' but 'what do you want your place to be like in 20/30 years?'
"That is happening in some places such as Loch Lomond & The Trossachs where charette work we've undertaken with the National Park Authority has formed the basis of its local plan but it doesn't happen that often. It's always been placed in the too difficult category. After coming out of lockdown and the extraordinary events of the past two years I don't think it can be placed in the too difficult category anymore. It's essential."
By staging an exhibition of what can be achieved where a spirit of common purpose is allowed to flourish Anderson hopes to seed a broader discussion that generates ideas as a direct response to people's wishes. In the process, Anderson believes that it makes a compelling case for the civic value that architects bring to communities while helping rediscover the soul of architecture.
By adopting a one-to-one pairing of architects and citizens the What If team aims to get to the core of what makes people with the greatest stake in spaces tick. "We've stripped away all the layers and processes involved in realising places to bring it down to the hopes and dreams a community has and how an architect can respond to that," says Anderson. "It's about making people feel more connected and enfranchised in the future of their places but it also shows the value of architects and designers to make places better. That's about making the case for the profession as much as anything. It's about trying to reposition the profession to offer something critical to the future of the country."
Is it fair to say there's been an element of distancing in recent years, has there been a slow, broad retreat? "Yes, the size of the bureaucratic machine involved in delivering places has only grown. How can we strip all that back and deliver someone's wishes for the future? That often gets lost in the process but it shouldn't."
Is there an issue that in reaching out with one question you will receive a multitude of different responses? How did the process of selecting individuals work? "The five places were picked because either ourselves or A&DS had connections with them. It was partly to renew initiatives going on in those places but also there was an established network. There is a host in each place who was the connection and who picked a cross-section of local citizens who would respond positively. Ourselves and A&DS picked the architects to give a leg-up to younger practices and more established practices who we knew would give it a lot of thought."
While an open-ended question can elicit the broadest range of responses it can also lack focus, was it felt necessary to impose any boundaries or constraints to help channel the process? "We didn't set any boundaries, it's deliberately broad-ranging", remarks Anderson. "We didn't want to constrain it by their being a particular delivery route. The wish came first. You can say, so what? This is just a bunch of ideas but the primary purpose of the exhibition is one of advocacy, by showing what can be achieved by listening to the wishes of local people and placing architects more closely within those communities.
"It's getting loads of attention from the press and TV, there will be events later in the year with local politicians so there will be government interest in it as well and we hope that this helps take that conversation forward."
The key takeaway of the programme is engagement, giving people a stake in their immediate environment and a sense of empowerment that they have the means to make things better. "It's more than just a voice", adds Anderson. "There is a disenfranchisement issue which needs to be addressed but I think our experience from doing charrettes is that the challenge of doing these projects is always resources but the most valuable resource you could have is the energy of local people around a common cause and vision. If people feel that they can have an impact they will get involved and if they feel disenfranchised, they won't."
How did the process play out on the ground, were people enthusiastic to embrace the project or did you have to work to convince people that you had their best interests at heart? "By not going to a proposition and rather saying 'well, what do you want it to be?' that completely shifts the whole conversation."
Another crucial factor behind the exhibition is that of timing, coinciding as it does with the many crises of today. With collateral damage from these events building in the form of a collapse in the retail and leisure economy coupled with unprecedented demand for active travel and green space is it now time for tough choices to finally be taken?
Anderson says: "The past year of lockdown and dislocation has shown how much people value coming together and being with other people. The other thing this year has shown is the rules can be set aside and anything is possible. From furlough to vaccine development and the fact a lot of cycle lanes appeared virtually overnight. If you walk around any town or city at the moment you will see that the pavements have been colonised by people enjoying a drink without any licenses or policy development. It just happened. If the spontaneity and inventiveness that has come from that need can be channelled then the question what if can become why not?
"It will be hard for those who control these processes to say 'that's too difficult' after what everyone has been through."
With such an open-ended brief, responses inevitably come in the form of broad strokes rather than clearly defined initiatives but through all the five places a general feeling of detachment was observed. Anderson said: "There's a definite theme of disconnection even with most of this done pre-covid. There is a strong desire for more and better quality green space and that's tied in with the sense of wellbeing."
Ultimately the project can shift the narrative from conversations laced with doom and gloom around store closures and the rise of the online economy to one that seeks opportunities, sparking a long-overdue rethink of how places can better serve today's needs. "The next crisis of the pandemic will be the economic impact on town centres", foresees Anderson.
"That's been a live issue for many years now and it's moved from acute to critical. There are a lot of issues coming together to put town centres into A&E and we need to do something." With austerity set to return with a vengeance, another key aspect is to show that significant interventions need not carry a significant price tag. "The spirit of What If is not saying we have to do this. It's saying what if we close this street off for a week and see what happens? There's a positive tone to the wish rather than a need or requirement. It's a positive statement with a spirit of hope. It's non-challenging to say I have an idea to do something about this. So many of the adaptive things which have happened don't cost anything. However, if a community has a clear idea of where it wants to go then resources can be funnelled toward that goal.
"Terry Farrell as city design champion of Edinburgh talked about visions as the picture on the jigsaw box, which means all the individual pieces are contributing toward that vision even if it might not seem so initially. People are engaged by ideas, people get enthused and that's what drives things forward, not policy documents."
By harnessing an innate desire to reshape the world around us and leave it in a better condition than we found it, What If shows that whether you're ten or 80 a better tomorrow can be achieved but only for those willing to take the first step in their imaginations.
Back to July 2021