Glasgow's Central Quay advances at the hands of Keppie Design
November 18 2021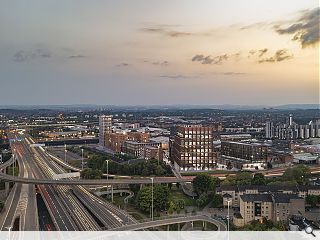 A long-standing gap site in the heart of Glasgow is to be woven back into the city centre with property developer PLATFORM breaking ground on a £100m mixed use development.
The eight-acre site at Central Quay has lain derelict for close to 20 years but will now play host to 498 apartments by Keppie Design, spread across four separate blocks rising up to 20 storeys in height.
This will be joined by a 30,000sq/ft office building at 2 Central Quay which has already been pre-let to a film production company, attracted by the availability of land for storage and production.
Paul Broad, director and head of business space at property advisors Avison Young said: "This will be truly transformational and 'place making' regeneration at its best. It will not only advance the office and hotel development opportunities at Central Quay but enhance the opportunities for all the other developers and landowners in this waterfront location, who over the last 10 to 15 years have been looking for a catalyst to start their own mixed-use developments.
"Glasgow's waterfront is its biggest asset, and it genuinely feels like we have turned a corner connecting the Finnieston district to Glasgow city centre.
"With the onset of the 'Green Agenda' many investors and property developers are looking inwards at what they can do and are trying to consider how they could be more sustainable and reduce their carbon footprint. When delivering new property development initiatives recycling redundant brownfield sites is an excellent way to be more sustainable by reducing the need to encroach into Greenbelt areas."
The site is owned by Harbert Management Corporation, represented by asset managers XLB Property, who have ambitions to deliver a further 200,000sq/ft of office space and a 180-bed hotel on four acres of land to the north bordering the Clydeside Expressway.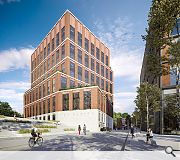 The development will plug directly into the national cycling route to promote active travel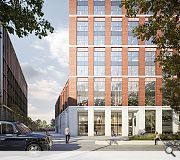 The expanded masterplan caters for returning occupier demand
Back to November 2021