Bridgeton 'defurb' to deliver post-Covid workspace
November 15 2021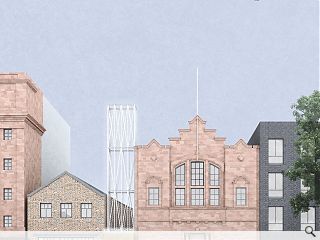 Clyde Gateway has followed up significant regeneration around Bridgeton Cross, including delivery of 68 new homes and redevelopment of the Olympia Theatre, with plans to refurbish New Olympia House as office accommodation.
The former Salvation Army hall has been acquired by the regeneration body to deliver open plan office space for local businesses by stripping out internal partitions and restoring the full volume of the hall for 322sq/m of accessible, flexible workspace over ground and first floors.
Emphasising health and wellbeing through the promotion of fresh air, and natural light as well as planting the work will see blocked up windows reopened and new lightwells punched through from an opened up attic space.
Key to this approach will be the treatment of a neglected alleyway as a green 'lung', announcing the accessible entrance with a highly visible lightweight metal 'beacon' drawing from the Bridgeton Umbrella.
In a statement, O'DonnellBrown wrote: "There is an opportunity to pick up on the existing pattern of vertical elements along Olympia Street, looking specifically at the bay pattern on the elevation of Olympia House itself, and add to this to create a new vertical element to signify a new accessible entrance and create a unique character and identity for new Olympia House."
Doubling as a social and cultural hub for the area the offices will facilitate alternative ways of working with dedicated IT facilities, collaboration and break out spaces.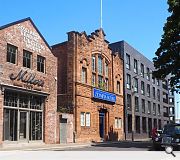 Miller's Flooring have repurposed the adjoining property for their showroom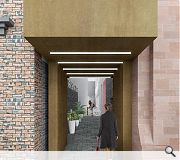 A neglected alley will become a fully accessible green 'lung' for tenants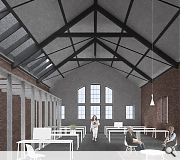 Unsympathetic partitions and suspended ceilings will be stripped back to reveal the dimensions and features of the original hall
Back to November 2021