Bridgeton office to residential conversion secures planning consent
November 4 2021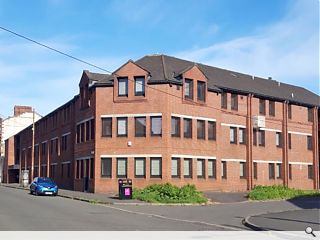 Spectrum Properties has obtained planning consent from Glasgow City Council to convert a former Job Centre in Bridgeton into 49 flats for private rent.
The re-use proposals were initially refused by planners back in January citing a lack of privacy for ground floor tenants, reliance on predominantly single-aspect flats, limited access and a shortfall in recreational open space.
A resulting review has seen Jewitt & Wilkie Architects carry out minor amendments to their proposal, including reducing the extent of a car park to provide additional amenities and improved landscaping.
Spectrum Properties managing director Bill Roddie said: "We are delighted that the planners have had a change of heart and that we now have the green light to undertake the work on these good quality private rental apartments that are in great demand in the local area.
"With only some very minor amendments, our original planning proposal stands, and we anticipate the new apartments will be ready for occupation by local people by late summer 2022."
Spectrum successfully argued that the plans represented the sustainable re-use of a redundant building which was unlikely to find commercial tenants, with minimal structural alterations required.
Back to November 2021