Historic chimney stands tall again in Bucksburn
October 18 2021
A landmark 40-metre high red brick chimney, centrepiece of the former Davidson's Paper Mill, has been restored for posterity by Barratt Homes.
Work by DWA landscape architects and Halliday Fraser Munro at Davidson's Square, the latest phase of the Riverside Quarter, harnesses the industrial relic of a time when Aberdeen was the largest manufacturer of paper bags, into a £650k public space on the banks of the River Don.
David Palmer, managing director at Barratt North Scotland, said: "The Davidson's Paper Mill chimney is a recognisable landmark in Aberdeen, and we felt a huge responsibility to bring it back to life and celebrate the site's heritage.
"Our construction, design and architecture teams worked closely together to create a public square that connects Riverside Quarter with the river while also providing a unique and striking space that retains, restores and carefully integrates the existing red brick chimney."
Future plans include a riverfront boardwalk to connect with the developing Bucksburn Corridor, a network of open spaces and paths incorporating play parks and nature.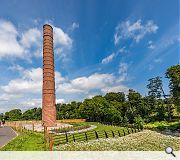 Red brick apartments and townhouses nod to the now demolished mill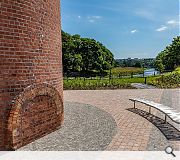 The chimney stands as a marker within the riverside landscape
Back to October 2021