Skye affordable housing diversifies with self-build push
October 19 2021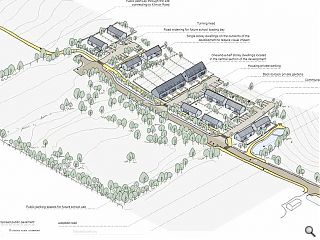 Dualchas Architects have taken the helm of 16 affordable homes at Dunvegan on the Isle of Skye, including a possible four self-build plots.
A joint venture between the Highland Council and the Lochalsh and Skye Housing Association the venture will deliver rural homes for rent close to Dunvegan Primary.
Works will see the current single-track access widened to provide an improved active travel link between the A863 and Kilmuir Road, with development split between an 'upper' and 'lower' development plot defined by natural dips and rises in the landscape.
In a design statement, the practice wrote: "The housing section of the site is an open field, with stock fencing and a ditch dividing it. A dip in the topography in the central section creates a more sheltered and private space that is suitable for a higher density of housing. This is the lower housing site.
"The upper section of the site slopes gently towards Kilmuir Road with a flatter terrace at the same level as the school playing field. This is the upper housing site. The topmost section is the most exposed visually from within Dunvegan as well as outside the village and is proposed to be retained as grazing land. Land below the lower housing site is also proposed to be retained as grazing land."
Into this setting, a variety of simple terraces will be inserted at right angles to the road network with back to back gardens minimise fencing around the development perimeter in favour of street and gable-fronting homes.
All properties will be finished in a mix of white render with timber accents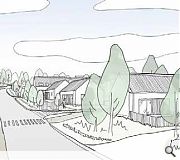 Homes will front a new active travel route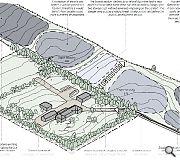 Robertson Construction has been appointed as design and build contractor for a new Dunvegan Primary
Back to October 2021