B-listed Haghill Primary prepped for residential rebirth
|
Send to friend
October 14 2021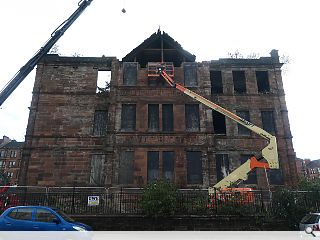 Glasgow City Council has initiated works to stabilise the B-listed Haghill Primary, by authorising the painstaking process of dismantling the historic structure stone by stone and removing buddleia growth following widespread water ingress and salt seepage.
The painstaking operation by Caskie Demolition, overseen by Glasgow Heritage, seeks to maximise salvageable stonework and partial facade retention on Marwick Street. Health and safety measures call for the Walter Street facade to be reduced to single-storey height with only the boundary wall, railings and janitor house left untouched.
Outlining the need for urgent action a structural survey undertaken by David Narro Associates observed: "... the building has deteriorated since 2004 and appears to have accelerated in the last seven years. It is now at a critical point in time in terms of how feasible it is to save it."
The salvage effort will retain decorative elements such as a date stone, cornice, 'School Board of Glasgow' relief, ornate arches and carved 'boys' and 'girls' stonework on-site for future reinstatement. This material will adorn a future social housing development by Milnbank Housing Association.
The red sandstone school board building dates from 1904 and was designed by Andrew Lindsay Miller, its fate mirroring that of the nearby Golfhill Primary in Dennistoun.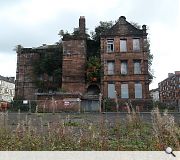 A partial roof collapse exacerbated deterioration in recent years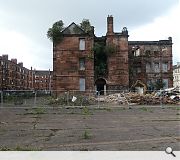 Salt migration through saturated stonework poses a major structural headache
Back to October 2021