Supermarket sweep
October 16 2008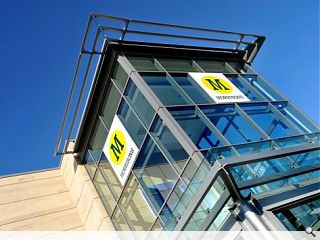 The West Granton Local Centre, designed by architects 3DReid, has officially opened.
The mixed-use development at Granton waterfront is anchored by a two-storey Morrison foodstore of contemporary design using quality materials, including extensive natural stone for this important gateway site. Other uses include offices, a bar/restaurant, retail units, student housing, a petrol station and 555 car parking spaces.
The proposals form the first phase of a much needed mixed-use core serving the existing communities of Granton and the emerging communities of Forth Quarter and Waterfront Edinburgh. Central to the project has been the integration of the development into the existing urban fabric, whilst meeting operational and commercial design criteria. By wrapping the superstore with complementary uses this provides active frontages and occupies a full city block.
Barry Paton, Associate Director at 3DReid, said: "The concept of sustainability is key to the Local Centre. The range and mix of uses minimises the need for multiple car journeys and reduces the need to travel out of the local area for food and convenience shopping and community services."
He added: "The buildings are designed to provide flexibility and durability. Modular building components enclose clean and simple internal spaces. Office floor plates are shallow and naturally ventilated. Full height glazing ensures maximum benefit from natural daylight. Solar control is provided by internal blinds and external louvers to extensively glazed areas to prevent excessive solar gain."
Back to October 2008