Calton Hill music school consent clears the way for construction start
|
Send to friend
October 7 2021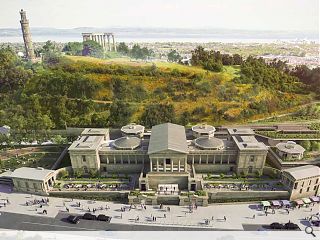 The City of Edinburgh Council has awarded planning consent to The Royal High School Preservation Trust (RHSPT)to restore the Calton Hill landmark as a National Centre for Music.
Combining music education and public performance the ambitious proposal has been made possible by a £55m donation from philanthropist Carol Colburn Grigor and the Dunard Fund to cover capital costs and future maintenance. This will fund the creation of a new home for St Mary's Music School to designs by Richard Murphy Architects, conservation specialists Simpson & Brown and landscape architects Optimised Environments.
Outlining a sensitive approach to the neo-classical Thomas Hamilton landmark Richard Murphy Architects wrote: "Our overall architectural objective is to allow Hamilton's building and its setting against Calton Hill to be seen as originally intended, free of later additions. This setting has been compromised for about 150 years and our proposed new buildings are designed to be seen as a low-lying terraced landscape.
"Alterations to the main building are restricted to a new entrance, invisible from the street, but otherwise new work is located in areas of the building which have already been significantly altered by the PSA (Property Services Agency - a Civil Service led architectural office). A key part of our proposal addresses the curiosities of Hamilton's very under-used external staircases, now revived as a major new entrance route for the public performance spaces."
Dividing the school and grounds between a public garden and performance space alongside spaces for private performance and teaching the work will utilise Hamilton's steps as a ceremonial entrance from an impressive new foyer formed under the main hall.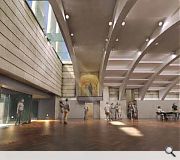 A cavernous foyer will contain a bar and twin flanking stairs lit by a roof light inserted into the floor of the external colonnade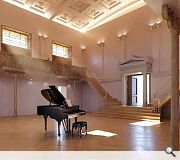 Both private and public performance spaces will be created within the former Assembly Rooms
Back to October 2021