Stacked home to complete the street in Joppa
|
Send to friend
October 7 2021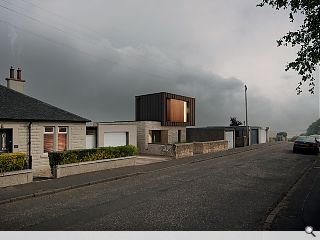 Planning permission is sought for a gap-site development in the Edinburgh suburb of Joppa to create a detached home on Seaview Crescent.
Occupying the rear garden of 53 Joppa Terrace the build will stand between neighbouring garages and adopts a stacked form to maximise daylight to garden level living spaces.
Offset upper-level bedrooms will also serve to provide additional shelter from prevailing winds off the Firth of Forth. Utilising the topography to disguise its three-storey massing the development will slot into the established mid-century suburb with contrasting top floor materials further reducing apparent massing.
In a statement, Dugald Skene, director of DS Architecture, told Urban Realm: "The design seeks to contribute positively to the streetscape by filling a natural gap site on Seaview Crescent. The massing is informed by the unique constraints of the site, shaped to respect the lines of sight and daylighting to the properties immediately surrounding the plot.
"Presenting two storeys to the principal elevation, the scale directly corresponds to those adjacent mid-century homes on the street, with materials of light brick and zinc cladding carefully selected to maintain a visual connection with the traditional materials used on those nearby houses."
Visualisations provided courtesy of Dalgety Design.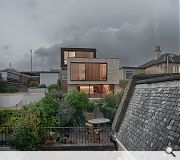 Terraced topography provides scope for split level outdoor spaces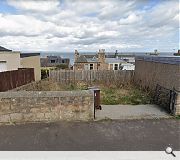 The unkempt plot sits amid a run of garages
Back to October 2021