Edinburgh council house programme to deliver 142 Muirhouse homes
October 1 2021
Detailed plans have been prepared for 94 flats and 48 colony style homes at a former care home within the Granton Waterfront masterplan area.
City of Edinburgh Council has appointed Cruden Building to deliver the project, who in turn selected Smith Scott Mullan Associates as part of a design team that also includes Will Rudd Davidson, Hulley and Kirkwood and Hardies.
Replacing the former Silverlea Care Home with a mix of social and mid-market rent properties the project will also incorporate a new football pavilion to replace temporary facilities on site as part of the authorities stated goal of building 10,000 new homes by 2027.
Working with the existing landscape the homes will slot in around existing mature trees in the form of four-storey blocks, clearly delineating the entrance from Muirhouse Parkway and lining a one-way street that forms a loop deep into the site. A large communal green space at the centre will form a focal point for the emerging community and leading to three-storey colony-style flats to the north arranged around a sunken garden.
Outlining the 'buildings in a landscape' design principles the architects wrote: "By reducing the amount of space given to car parking, more of the site can be given over to both private, shared and public green space, an important element of the project given the existing mature landscape and the site's location on the edge of the Green Belt.
"This will significantly contribute to the wellbeing of the tenants and create a place which is attractive to live in unique and sustainable."
Phased construction is expected to commence next year subject to consent.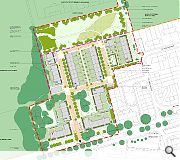 Building densities will mediate between an urban response to Muirhouse Parkway and green belt land to the north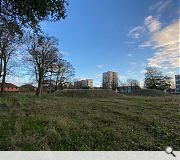 The care home has already been demolished in anticipation of development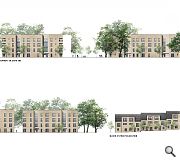 The homes will be developed to meet the council's Net Zero Carbon ambitions and include blue-green bio-solar roofs to the flatted blocks, PV panels, open swales to handle rainwater and communal air source heat pump technology
Back to October 2021