Galashiels gallery celebrates the rich tapestry of history
September 22 2021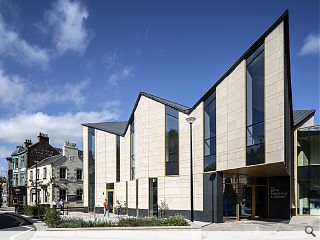 The jewel in the crown of Galashiels tourism has opened with the completion of The Great Tapestry of Scotland Gallery, the custom-built home for a tapestry that brings history to life in pictorial form.
Built around a special first-floor room to house the one-off piece, painstakingly assembled at the hands of a thousand stitchers, the Page\Park designed gallery rises on the town's High Street as the modern embodiment of its historic skyline.
Condensing 12,000 years of history onto 143m of cloth the tapestry represents the vision of Alexander McCall Smith and was designed by Andrew Crummy with an accompanying narration written by Alistair Moffat.
Conceived in the round the central chamber is formed from folding fabric walls that merge with the ceiling, with the radial artwork sweeping around the room in one continuous linear display. At each corner generous windows look out to the four hills surrounding the town, grounding the space in its environment.
In a statement, the practice wrote: "The dramatic geometric roof design is inspired by the unique roofscape of towers, dormers, gables and pitched roofs that defines the architectural character of Galashiels. As you approach Galashiels the roofs of the town unfold before you. The new gallery inserts into this roofscape as a contemporary and playful re-imagining of the traditional Victorian pitched roof.
"To break down the mass of the building to a scale more appropriate to its neighbours we folded the external walls creating subtle undulating bays."
Connected by a glazed link to the Old Post Office building the visitor centre responds to its ornate neighbour with vertical and horizontal bands of stonework, likened to the warp and weft of a textile.
Photography by Keith Hunter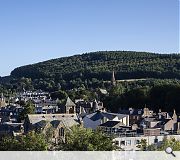 A jagged roof profile reflects the jumbled skyline of the historic Borders town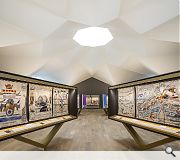 Folding walls slot into the origami ceiling
Back to September 2021