Chesser cattle mart to host a new urban quarter
September 10 2021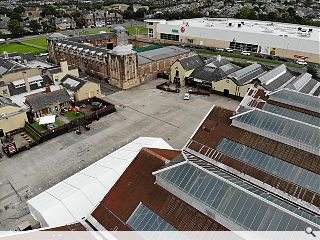 A major brownfield build in the Edinburgh suburb of Chesser is set to transform the area around New Mart Road into an urban quarter.
Watkin Jones Group with Manson Architects envisage a build to rent led development that includes affordable housing and student accommodation on land to the rear of the Corn Exchange concert venue, recently acquired by Academy Music Group.
Development centres on a collection of listed and unlisted structures formerly associated with a cattle mart and more recently in use as a football and bowling venue.
Centred on a new public square suitable for events the car-free plans seek to retain a 'significant proportion' of the former livestock shed frames and will include a series of more intimate walled gardens and residential courtyards linked by pends, footpaths and a tree-lined boulevard.
Iain Smith, planning director for Watkin Jones, said: "Maintaining the strong heritage of the site is a feature of the development and our intention is to retain the character of the buildings where we can, ensuring their long-term viable future, with the creation of some fantastic public squares, each with their own distinct identity."
A proposal of application notice has already been filed with the City of Edinburgh Council with completion estimated by 2025.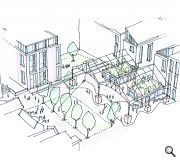 A central open space will be transformed into a public square suitable for events, concerts and markets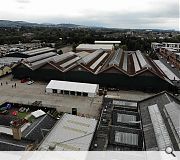 Works will seek to retain as much of the shed structure as possible
Back to September 2021