Speculative office building picks up with Glasgow block
August 31 2021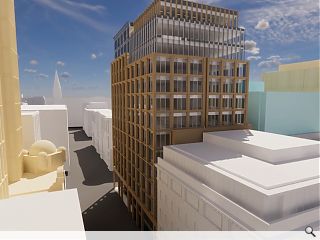 The backers behind a major new office development in Glasgow city centre have shared their indicative plans for a 13-storey tower on the corner site.
Garroch Investments with Mosaic Architecture + Design propose to demolish the current Prince's House at 51 West Campbell Street and replace it with new build accommodation due to the use of high alumina cement (HAC) in its construction.
Explaining this difficulty the applicants wrote: "As the building incorporates HAC it means that the building does not have a long term future as it is impossible to obtain a fully repairing and Insuring (RFI) lease. Potential occupiers will worry about the quality and longevity of the building therefore it will be unable to secure long term lets. This building will therefore not be able to attract Grade A office tenants to what should be a prime office location.
"The building has already been reclad in 1998 which has reached the end of its useful life span and therefore refurbishment of the external cladding is futile as the building defect lies within the concrete frame of the building which cannot be upgraded or repaired."
A mixed-use replacement is proposed to rise in its place constituting ground floor retail and commercial office space above with external terraces at the highest level. A circulation core is positioned to the south to maximise views to the north and east.
The city centre build joins a growing cluster of activity, rising across the road from the Distillers Building by Bennetts as well as Cadworks and The Grid, both by Cooper Cromar.
A formal planning application is expected to land later this year following public consultation.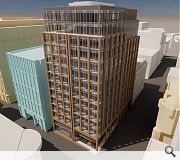 Redevelopment will enable the owners to reach skyward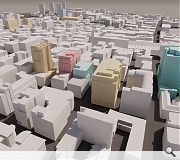 The central business district is subject to renewed activity as developers bet on a return to the office
Back to August 2021