Cathcart apartments to embody 'classical' industrial style
August 9 2021
Thomson Hunter Architects have filed plans for a flatted development at 152 Newlands Road, Cathcart on behalf of Avid Xircon North.
Inspired by the 'classical' industrial style of the nearby Weir Pumps factory the homes pick up on the materials and proportions of its neighbour to bed in 31 modern flats alongside traditional tenements.
The B-listed west range offices at 147-149 Newlands Road were built in 1912 to designs by Albert Kahn's Trussed Concrete Steel Co using a steel frame with concrete and multi-paned glazed infill panels.
The current plans will entail demolition of an unlisted single-storey brick gushet building at the corner of Tankerland Road and a tarmac surfaced car park above, no longer part of the engineering complex.
A rear yard area at the 0.4-acre site will be landscaped for communal use, subject to a follow-up application.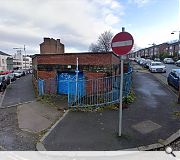 A single storey brick annex is to be demolished to permit construction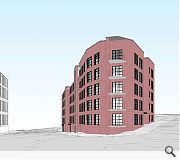 New apartments will embody turn of the century industrial style
Back to August 2021