New Town townhouses to come full circle as housing
August 6 2021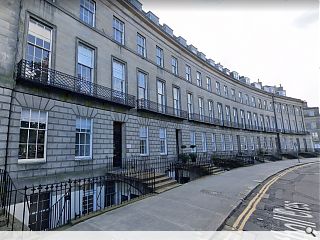 Four A-listed New Town townhouses and an associated mews building are to be returned to residential use, undoing 20th-century alterations to create 34 apartments, none of which will be affordable.
Last in use by Brodies Solicitors the townhouses at 14-17 Atholl Crescent have been subject to extensive alterations, including replacement of the main stair at number 15 with a lift shaft, partition walls and insertion of a two-storey bridge link across the former garden.
CDA Architects have been instructed to undo much of this damage, removing non-original partitions and the link bridge, as well as reinstating the blocked entrance to number 16. Throughout this work surviving decorative features will be retained and repaired wherever possible such as iron trellis balconies.
In a design statement, CDA wrote: "The major works to the existing rear elevation of the townhouses will see the removal of an existing link bridge structure connecting the townhouses with the mews building. The removal of this structure will necessitate the reinstatement of stonework and the forming of new window openings to the rear facade. At lower ground floor level existing openings are proposed to be enlarged to allow for the installation of external doors providing access to the proposed duplex private gardens."
As part of the works larger window openings will be created to Atholl Crescent Lane as part of a general refurbishment of the existing mews elevation.
Ordinarily, 8 homes would be required to be classed as affordable but as there is no opportunity for an entire stair or building to be allocated for this purpose, coupled with high renovation costs, mean the development has been deemed unsuitable for affordable accommodation.
Back to August 2021