Evolving Finnieston foundry plans shift towards residential
July 29 2021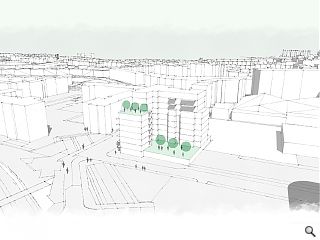 Haus Collective, acting on behalf of Nevis Properties, has launched a public consultation over proposals to replace a former Brass Foundry building at 131 Minerva Street, Glasgow, with new homes.
Situated at the junction with West Greenhill Place the indicative plans call for the industrial survivor to be replaced with a T-plan block facing Minerva Street and two south-facing amenity decks at differing levels, not an L-plan student block as first envisaged.
In a statement, the applicant wrote: "The simple response to the site would be to develop an L-shaped block with massing fronting both the Minerva Street and West Greenhill Place boundaries. We are however concerned by the potential challenge this presents on massing affecting density, and indeed the quality of amenity space as a result of shading from the massing itself.
"In response to this, south-facing external amenity spaces are positioned at the corner and along Greenhill Place, enjoying elevated views across the river."
Accommodation will range from 50.8sq/m one bedroom flats through to a 107sq/m three-bed apartment.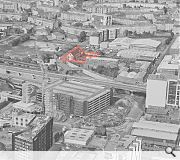 New homes are earmarked for a burgeoning corner of the city, well placed for transport connections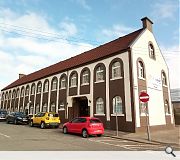 The development necessitates demolition of this former brass foundry
Back to July 2021