Architecture in Scotland 2006-2008 / Building Biographies
October 10 2008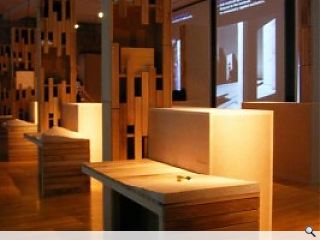 Building Biographies has officicially opened at the Lighthouse, Glasgow, the latest biennale review of Scottish architecture for the ACCESS to Architecture Programme, which aims to bring architecture to a wider audience across Scotland. Within this exhibition and accompanying book, recent Scottish projects are presented with European examples from Norway, the region of Vorarlberg in Austria and Graubunden in Switzerland, placing the buildings of Scotland and their biographies within an international perspective.
The exhibition looks at issues of culture of place, regional identity and globalisation, which in turn challenges the buildings to tell their stories and to answer the question 'why is it like that?'
In designing the exhibition,
Collective Architecture
sought to use sustainable materials which had their own story, drawing on links with Glasgow's recently established Wood Recycling company. The final design incorporates the reuse of oak whisky barrels which not only provides a unique tactile character to the space but creates a rich smell of wood and whisky.
The oak structures within the exhibition are designed to provide resting points from which to view films describing each project, whilst housing a scale model and material sample. This approach allows all the projects to be viewed individually, but through the journey around the gallery, compared against one another in terms of scale, siting, materiality and form.
Buiding Biographies has been put together by Touchwood Design and Build, specialists in the field of timber design, manufacture and installation and who today launch their new website
www.touchwooddb.co.uk
.
The exhibition will run from October 9 to January 11.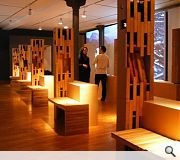 Back to October 2008