Timber high rise honoured
October 9 2008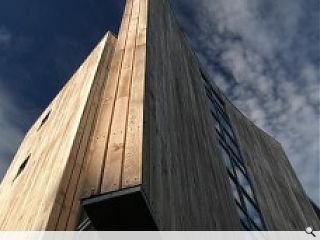 Edinburgh architects Smith Scott Mullan have been shortlisted for this year's Timber in Construction Awards. Completed last year, West Park student residences at the University of Dundee bucks the trend in student housing, a building type for which the word "inspiring" is not a common juxtaposition.
As Associate in charge of the project, Rachel Simmonds explains: "This area is characterised by 19th Century villas which lie behind large stone walls and a band of mature trees. One of the objectives of the new development was to set up a future pattern of landscaped spaces, addressing the historic villa while minimising the impact of car parking.
"The villas are generally unseen from the road, with only gate houses declaring their presence while also reinforcing their aspects of privacy. We believed that the site justified a more public presence and it was felt that the building should approach closer to the road and form a statement within the mature landscape. The result of this is the distinctive four storey tower of European oak which forms the southern tip of the building, visible from Perth Road".
Evocative of its time and being constructed of untreated hardwood, the building will gradually gain the soft patina of the surrounding existing trees.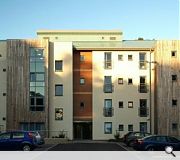 Back to October 2008