Gateway tower promises to arrest the decay of Sauchiehall Street
July 13 2021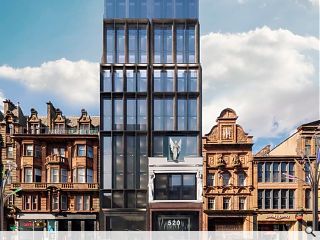 ADP Architecture has firmed up plans for a major co-living development at 520 Sauchiehall Street, Glasgow, on behalf of Consensus Capital Partners.
Supporting the recent Avenue development a statement of intent outlines the opportunity to deliver 87 studios and one-bedroom apartments for rent above a ground floor commercial unit at the long-term vacant site stretching to Renfrew Street at the rear.
Working with heritage assets facade retention will be undertaken to B-listed buildings at either end to preserve the character and appearance of the city centre conservation area after reuse of the existing structures were considered economically unviable.
Picking up on the Dental Hospital, Tay House and The Beresford Hotel as height markers a 13-storey tower is proposed to reactivate this segment of the street with new commercial activity and increased footfall. While apartments will be small the applicant counters that this will enable rents to be kept low, with generous communal spaces offsetting a lack of private space, including on-site co-working spaces to provide tenants with facilities to work from home.
The high-density approach will see a high-rise frontage erected at Sauchiehall Street accessible via a retained facade from which a generous foyer and access core can be reached with a north-facing shared courtyard opening out beyond a nine-storey setback. Beneath all of this will lie an underground service level spanning the full depth of the site.
In an accompanying design statement, ADP wrote of the Sauchiehall Street frontage: "The giant scale of the 1st floor 'piano noble' is respected by setting back the 2nd floor in and introducing duplex apartments to exploit the large scale openings. The original tripartite arrangement of glazing is re-introduced with wide vertical mullions and deep reveals. At 3rd floor level the existing façade gives way to a new-build concrete frame with glazing recessed and solid panels introduced to form a back-drop to the Harmony statue."
A similar approach is to be taken on Renfrew Street where a basement level is to be reimagined as a new entrance and tiered social space with a quirky sandstone bust of Beethoven (removed for safekeeping), set to keep watch one more once reinstated.
Street elevations will take the form of a robust vertical precast concrete frame inset by deeply recessed bronze openings.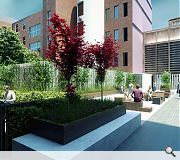 A central amenity deck will provide valuable outdoor amenity space for tenants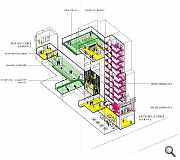 Stacked accommodation will open up the inaccessible interior as inhabitable space
Back to July 2021