Locals fume as Ayrshire incinerator plan returns
June 21 2021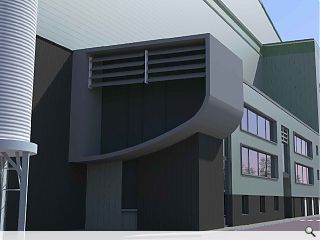 Plans to erect an energy waste recovery facility at Killoch in East Ayrshire have encountered stiff community resistance, with over 100 writing to object to the plans.
Led by Environmental and Wardell Armstong the facility is one of a new breed of incinerators designed to process non-hazardous and non-recyclable waste into energy. Situated within an old colliery the new plans supersede an approved 2017 application and relate to a 9.36-hectare site off the A70 on which will rise the energy recovery building and an associated 75m high flue stack (up from 55m previously).
Switching from a gasification plant to conventional energy from waste has necessitated the construction of a significantly larger plant, now extending to a height of over 47m.
In a statement Wardell Armstrong explained the choice of a curved roofline to reflect rolling agricultural land around, stating: "A curved roof would help to visually elongate the building and smooth out the high point of the building over the boiler hall. These largest parts of the building will be encompassed within the sweep of a unifying curve running the length of the complex. The design team also considered that a simpler façade, with elements to break up mass, would be appropriate within the wider landscape context."
Finished in a muted palette of green and grey cladding the industrial design includes an enclosed loading area where around 166,000 tonnes of waste will be delivered annually and locate offices, the reception and visitor centre to the north of the main complex to screen views from the road.
The latest application has been received badly by people living in the area, concerned by the emissions impact on local Sites of Special Scientific Interest.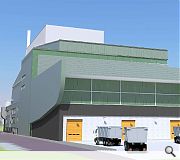 A graduated colour scheme will attempt to blend the plant into the landscape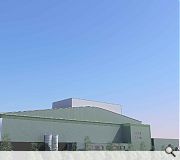 An overarching curved roof is intended to evoke rolling hills
Back to June 2021