MPS take flight
October 9 2008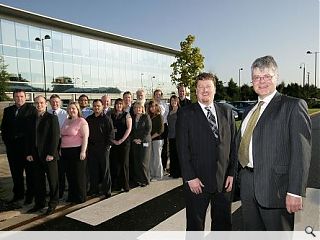 Expanding Glasgow-based design, engineering and project management company Morgan Professional Services (MPS) has moved into new offices to support its growing workload in Scotland.
MPS, which is part of top five construction and regeneration group Morgan Sindall, has moved into new premises at the Glasgow Airport Business Park in Marchburn Drive, Paisley.
The move will enable the company to continue expanding its team of architects and engineers. The firm, which is currently recruiting civil and structural engineers, plans to double its workforce over the next two years.
Under Cameron Malcolm, head of architecture for MPS in Scotland, MPS specialises in providing design, engineering and project management services for construction projects in the education, defence, custodial and commercial sectors. The company's current projects include the architectural design of 18 accommodation blocks at HMS Naval Base Faslane as part of the £100 million Neptune Regeneration Programme which construction company Morgan Ashurst is undertaking for the Royal Navy. MPS is also designing 22 new schools under South Lanarkshire Council's £850 million Primary Schools Modernisation Programme.
MPS's own architect team designed the fit-out of the new first-floor offices which feature a mainly open-plan office layout with a central core of 'glass cube' meeting rooms as well as breakout space and hot-desking areas. Brightly coloured storage walls divide the space. As well as office space, the new premises include a restaurant area. The company was previously based in smaller offices in Finnieston Street, Glasgow.
"We're a proactive design and engineering company with a real desire to grow our operations in Scotland. This move to larger premises reflects our determination to develop and expand our activities over the next few years," says Cameron Malcolm, head of architecture for MPS in Scotland, who heads up the Glasgow office. "Glasgow is an excellent catchment area for attracting talented architects, engineers and other professionals who can help take the business forward."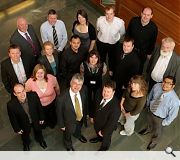 Back to October 2008