Bishopbriggs church spreads its wings following £1.25m refurbishment
June 14 2021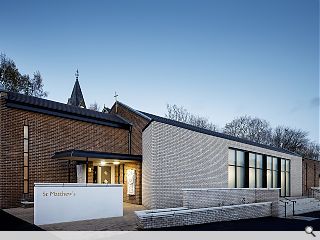 Page\Park Architects have completed a £1.25m refurbishment of a C-listed Bishopbriggs church, originally designed by Gillespie Kidd & Coia.
Working with St Matthew's Parish Church for over 5 years the practice has worked to open up space and make it more accessible while working with craftsmen to design bespoke furniture and altarpiece. Originally built during the immediate aftermath of World War 2 in 1947-8, the modest church made use of salvaged roof timbers, resulting in an unusually narrow plan which contributed to longstanding operational problems.
This has been alleviated with the creation of a new side aisle which also increases the amount of light into the sanctuary via a prominent lantern window. Improvements extend to the church grounds which incorporate a pre-cast tiered seating area with planters and new entrance signage with inlaid gold text. The external terrace along the south side of the building serves as a gathering space in anticipation of future town centre public realm works.
In a press statement, the practice wrote: "The utilitarian design of the existing building benefited our contemporary reworking, and we were able to create an extension that was confident and fresh, complementing the original building without requiring to shy away, or exist in deference. A complete internal refurbishment was carried out, including replacing the damaged flooring with a new ceramic tile with a white strip highlighting the processional route to the altar. The material palette is intentionally restrained and elemental, with the warm tone of the timber giving relief to the new elemental concrete forms.
"Page\Park also designed a series of new pre-cast altar furniture, including the altar itself, lectern, presider's chair, and font. The parish agreed to commission a ceramic artist, James Rigler, to design and construct a new tabernacle and sanctuary light in collaboration with Page\Park. The tabernacle is constructed from slipcast Jesmonite and gold leaf, with a polished brass inner lining. The form and external pattern capture the spirit of the original church building, with inlaid pattern used to reference the symbolism of holy communion."
St Matthew's Church has been nominated for a Scottish Design Award for building re-use.
Back to June 2021