Glasgow bails out Love Loan public realm improvements to the tune of £648k
June 3 2021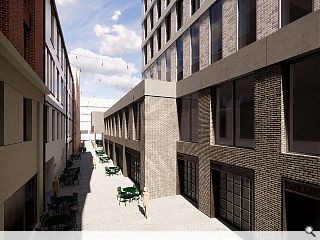 Glasgow City Council has released nearly £650k of City Centre Strategy funding to deliver new and improved public realm around the Love Loan development at the northeast corner of George Square.
In an unusual step, cash will be handed directly to Chris Stewart Group, rather than those being delivered directly by the council, to avoid incurring long-term maintenance costs.
This will see a package of Avenue road upgrades extended to skirt the full perimeter of the development together with a grant of £357,770 being made available for CSG to refurbish Love Lane itself. A further £150k of grant funding will also be made available for any temporary public realm improvements in support of a hotel opening as planned in mid-2022.
This follows an approach by the developer seeking public assistance, accompanied by a warning that the full scheme may not have been deliverable without support.
Councillor Kenny McLean said: "The funding of the public realm and lane refurbishment will not only create an attractive new public space in the city centre, but improve connectivity between key locations such as Queen Street Station, George Square and the University of Strathclyde and Glasgow City Innovation District. The wider development will contribute to the wider strategy for the city centre as we emerge into a period of economic renewal."
Chris Stewart, CEO of Chris Stewart Group added: "Glasgow City Council has shared our vision for Love Loan from the very beginning, believing that this important block in the city centre should be brought back to life for residents to enjoy and to draw new or returning visitors.
"GCC's support will enable us to ensure that the quality and standard of the surrounding development is matched in the public spaces."
The funding decision was made following due diligence checks on the economic case for a grant and are predicated on the development delivering genuine community benefit, including remaining accessible to all.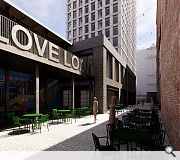 Fears had been raised that the full Love Loan scheme could not be delivered without public support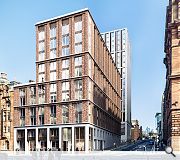 Love Loan will link directly to public realm improvements around George Square
Back to June 2021