Dual-fronted apartments to complete Merchiston tenement
May 28 2021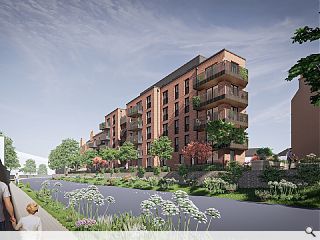 S1 Developments with 7N Architects have lodged plans to extend a Merchiston tenement by replacing warehousing with 46 new-build apartments.
96 Temple Park Crescent will rehabilitate a brownfield site with dual-fronted infill that repairs the street with low-level garden walls and greenery and provides shared amenity gardens backing onto the Union Canal. An access route to the south is entered via electric gates at the Polwarth Place junction.
Finished in rustic red multi-brick the homes will sit under mansard roof elements which will house extensive roof terraces with dormer and gable projections consciously tying in with immediate neighbours.
In a design overview, 7N wrote: "The building frontages have been designed to contribute to an interesting and varied streetscape to both the street and canal-side elevations whilst ensuring a contextual response to the surrounding architecture in both form and height."
Works will necessitate the removal of 13 trees along the canal classed as being in 'poor' condition, the loss of which shall be mitigated through new planting, including a communal growing space for residents to produce fruit, vegetables and herbs.
Nine flats will be classed as affordable with the remainder offered for private rent.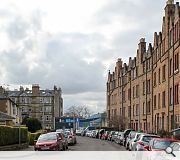 Infill work will plug a hole in the existing streetscape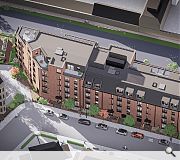 Residents will have access to canal-side gardens, balconies and terraces
Back to May 2021