Newton Mearns golf club fights for survival with diversification strategy
May 27 2021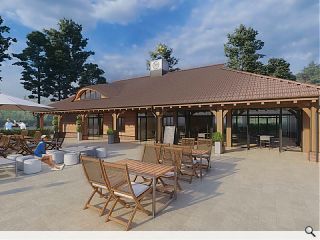 A public consultation has opened to remodel an existing golf course at the Eastwood Estate in Newton Mearns to include a new clubhouse, woodland retreat and homes.
Billed as a necessary package of work to save Eastwood Golf Course following a collapse in the hospitality and leisure economy the work will provide alternative revenue streams for the club while engaging new audiences.
Led by Broom Estates and GD Lodge Architects the emerging plans presage a planning application due to go before East Renfrewshire Council over the coming months, with a reopening deadline set for spring 2022.
Work will see the existing course remodelled from 18 holes down to 12 and includes an oak-framed clubhouse at the first tee with new access constructed from Old Mearns Road to alleviate congestion on Langlee Road.
Separately a woodland retreat could provide a haven for children and caregivers around a new play space and social hub as well as six homes modelled as a farm estate to support the wider redevelopment.
A live chat with members of the consultant team will be held on 1 June.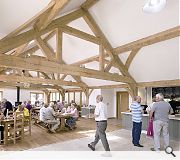 A new clubhouse will replace an existing facility that is beyond economic repair
Back to May 2021