Student housing bid for former Tynecastle High School
May 13 2021
The former Tynecastle High School is the subject of a significant student residential proposal by S1 Developments and Michael Laird Architects.
The B-listed school has lain derelict for over a decade and will be restored by its new owners, retaining the existing McLeod Street building in the shadow of Tynecastle Stadium while delivering car-free new build accommodation within the grounds.
Constrained by proximity to the North British Distillery and the Western Approach the site is considered unsuitable for mainstream residential but could be manageable through a student housing operator able to control for noise, smell and air quality issues.
Dan Teague, Director at S1 Developments, said: "At S1 Developments we develop sites to suit the location and following a full assessment of the constraints it is clear to us that student development is the most appropriate use to secure the redevelopment of the Old Tynecastle High School and develop the site in a manner which is compatible with the neighbouring uses. Discussions have also been held with local stakeholders and community groups to also look at the potential to form a new community space.
"The original school building has fallen into a sorry state since it stopped being a school in 2009. Whilst the redevelopment is challenging, we are hopeful that the proposed use brings with it an opportunity to save and renovate the original school building and continue its educational use, serving students in higher education."
A dedicated project website has been set up which will go live at 09:00 on 18 May, with consultants on hand to answer any questions on the day between 15:00 and 19:00.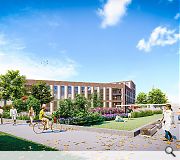 Heavy duty ventilation and acoustic systems will be required to mitigate against a distillery, traffic and the stadium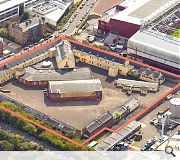 Site-wide green energy provision will be controlled by a Building Energy Management System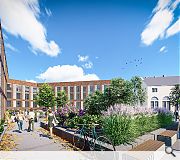 Teague purchased the school site last month with the intent to deliver up to 500 student beds
Back to May 2021