Dual carriageway to drive Ravenscraig regeneration
May 10 2021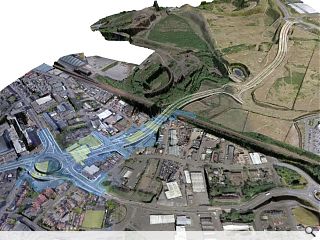 North Lanarkshire Council is progressing a significant package of road infrastructure improvements at Ravenscraig funded by the Glasgow City Deal.
Working with Amey Consulting the authority will drive a new dual carriageway with associated walking and cycling links into the brownfield development to improve access to nearby Motherwell as part of the £190m Pan-Lanarkshire Orbital Transport Corridor connecting the M74 to the M80.
Incorporating an underpass below the West Coast Mainline the complex build will open up 200 hectares of brownfield land which has lain fallow following the closure of the steelworks in 1992.
In a masterplan statement, Amey wrote: "As one of the largest regeneration opportunities in western Europe the redevelopment of Ravenscraig is recognised by the Scottish Government as one of two national development priorities, to be taken forward under its strategy to create a 'successful, sustainable place' with the potential to deliver over four thousand high-quality homes, create employment and education opportunities and provide a range of community, retail and leisure facilities for the benefit of new and existing communities, including those around Ravenscraig which have some of the highest levels of deprivation in Scotland."
Extending from the Windmillhill Street/Airbles roundabout the road link will navigate an industrial area and vacant ground (utilising compulsory purchase orders if necessary) before plunging beneath a railway line to connect with Ravenscraig.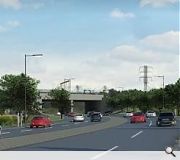 A new underpass will be carved out below the West Coast Main Line
Back to May 2021