Leadership sketchbook recalls five figures who challenged the status quo
May 7 2021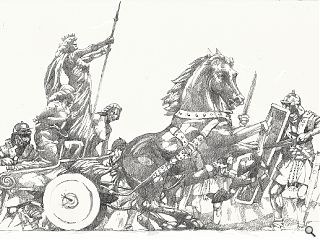 Architect Alan Dunlop has drawn a new leadership themed sketchbook ahead of the results of local, regional and national elections due later today.
Focussed on UK leaders in times of national crisis as well as those that have challenged the prevailing orthodoxy of their times five figures have been selected for their outsize contribution to history, economics and culture.
It is the latest in a series of sketches tackling everything from lighthouses to monuments and architecture in ruin.
In no particular order they are:
Queen Boudica ( after Thomas Thorneycroft ).
Queen Boudica was a Celtic warrior queen who united several tribes in revolt against the Roman occupation of Britain in 60-61 BC. She ruled the Iceni tribe of East Anglia alongside her husband King Prasutagus. Boudica and her allies gave no quarter in their victories and when Londinium was stormed, the Roman defenders fled. Boudica is remembered for her courage and leadership; "The Warrior Queen who fought the might of Rome."
John Smith
John Smith Labour party leader. On 12 April 1994, Smith died suddenly after a massive heart attack. He would have become Prime Minister had he lived. "The best Prime Minister Britain never had" Considered a true leader and who would have taken the Labour party down the path of sweeping and necessary reform and challenged the political culture of the United Kingdom. He is buried at the burial ground of Reilig Odhráin, at Iona Abbey. The burial ground of the ancient kings of Scotland.
Adam Smith, Edinburgh and the Scottish Enlightenment.
Adam Smith, the "Father of Economics" ( 1723- 1790 ) is known fundamentally for a single work—An Inquiry into the Nature and Causes of the Wealth of Nations (1776): the world's first comprehensive system of political economy and the first book of economics. The central thesis of Smith's "The Wealth of Nations" is that our individual need to fulfil self-interest results in social benefit. This, combined with the division of labour in an economy, results in mutual inter-dependencies that promote prosperity through the market mechanism. Smith rejected government interference in market activities and instead states governments should serve just 3 functions: protect national borders; enforce civil law; and engage in public works. Smith was a philosopher whose economic writings constitute only part of an overarching view of political and social evolution.
Robert the Bruce
Robert the Bruce was born on 11 July 1274 into an aristocratic Scottish family. He was distantly related to the Scottish royal family. His mother had Gaelic antecedents. Bruce's grandfather was one of the claimants to the Scottish throne during a succession dispute in 1290 - 1292. The English king, Edward I, was asked to arbitrate and chose John Balliol to be king. Both Bruce and his father refused to back Balliol and supported Edward I's invasion of Scotland in 1296 to force Balliol to abdicate. Edward then ruled Scotland as a province of England. He waged a highly successful guerrilla war against Edward 11 at the Battle of Bannockburn in June 1314, confirming the re-establishment of an independent Scottish monarchy.
Roger Scruton (1944-2020)
Sir Roger Scruton died of lung cancer in 2020 aged 75. He was a world-renowned philosopher but often a controversial public intellectual within the UK. Scruton wrote over fifty books on architecture, music, art and political philosophy. As a thought leader, he dedicated himself to nurturing beauty and "re-enchanting the world" and giving intellectual rigour to conservatism. He was also a government adviser, but I won't hold that against him. In 2009 - Scruton wrote and presented a BBC Two documentary Why Beauty Matters - in which he argued modern society had placed itself in peril by no longer valuing beauty. He also wrote newspaper and magazine columns, in which he mused on wine, politics and horseback hunting, which he pursued enthusiastically until his final birthday. As a musician, he composed operas. He qualified as a barrister but did not practice law.
Mo Mowlam
Mo Mowlam became a member of the Labour Party in 1969. In 1997, under the new Labour government, she became Secretary of State for Northern Ireland. The Good Friday Agreement. In 1998, when negotiations on the agreement had stalled, Mowlam " cut through conventions" and visited the Maze Prison and spoke to convicted IRA and UDA paramilitaries, as the agreement required their backing. Soon after their political representatives announced they were re-joining the talks.
The Good Friday Agreement for Ireland was secured on 10th April 1998. In 1997 Mowlam was diagnosed with a brain tumour and received radiotherapy and steroid treatment.
She gained weight, lost her hair and wore a wig or a scarf. In early August 2005, Mowlam fell and hit her head and developed problems with her balance, due to the radiotherapy treatment, she then became critically ill shortly afterwards and was moved King's College Hospital in London. She died on the 19th August aged 55 on 19th August 2005. Without her, the Good Friday Agreement would potentially never have been achieved. "It takes courage to push things forward" Mo Mowlam
Lord Lovat and Bill Millin
On 6th June 1944, D-Day, Lord Lovat's 1st Special Service Brigade stormed Sword Beach, Normandy. Under fire, Bill Millin, Lovat's personal piper played "Heilan Laddie", "The Road to the Isles" and "The Blue Bonnets Are Over The Border" to rouse the men. An undoubted act of bravery that may have saved his life. After the war Millin found out that the German troupes did not fire on him because they thought he was mad. Brigadier Simon Christopher Joseph Fraser, 15th Lord Lovat, 4th Baron Lovat. Lord Lovat waded ashore in battle dress, not a woollen jumper. From Sword Beach Lovat's commandos moved on to Pegasus Bridge.
They arrived at 1pm, late by two and a half minutes. for which Lovat apologised to Lieutenant-Colonel Geoffrey Pine-Coffin, of 7th Parachute Battalion. He went on to establish defensive positions, east of the River Orne. The bridge was relieved later in the day by the British 3rd Infantry Division.
Back to May 2021