Biennale Architettura swaps Venice for Dundee in grassroots shift
May 6 2021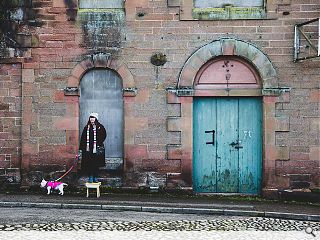 Scotland's contribution toward the 2021 Venice Biennale will swap Italy for Dundee with the V&A set to bring this year's commission much closer to home.
What if...?/Scotland will run from 22 May to 21 November, setting out a response to the question of 'How will we live together?' The free exhibition has been curated by 7N Architects in partnership with Architecture & Design Scotland to connect design professionals with the communities they serve to deliver inclusive regeneration.
This process saw the practice pair 25 people drawn from Wester Hailes in Edinburgh, Paisley in Renfrewshire, Annan in Dumfries and Galloway, Elgin in Morayshire, and Lerwick in Shetland with 25 designers, architects and artists to glean one-to-one insights on present challenges.
A series of short films created by Basharat Khan will seed discussions among visitors with the exhibition environment itself designed to inspire and encourage quiet reflection.
Project lead Ewan Anderson of 7N Architects said: "With What if…?/Scotland, we wanted to encourage collaborative thinking between designers and communities to demonstrate how community-led, grassroots engagement can stimulate big ideas from conversations about people's wishes for the future of their places – how will we live together? what if…? What does the future of your place look like? What if you could change it?
"In the face of a changing and uncertain climate, it's vital that conversation and participation and ambitious ideas are prioritised when we design our collective future."
The geographical shift has been mandated by the continued fallout from Covid-19 which has also introduced opportunities to embrace localism to power a green recovery.
Main Photo - participant in Annan workshop, collaborating with Beautiful Materials. Image by Bash Art Creative
Central Hotel – image by Andrew Piggott, 7N Architects, incorporating the proposed TOGETHER brand by Beautiful Materials
Elgin – image by Claire Hope, Buro Happold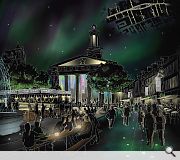 A night market could boost the after hours economy of Elgin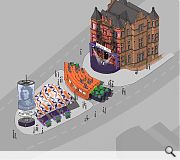 Annan's Central Hotel reimagined as a pop-up theatre
Back to May 2021