Framework to repopulate and green Glasgow city centre by 2050 adopted
May 5 2021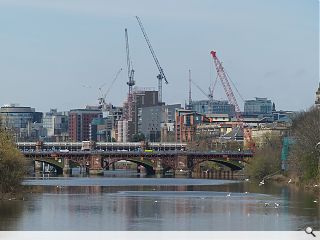 Glasgow City Council has adopted a Strategic Development Framework (SDF) governing development of the city centre over the coming three decades.
The document outlines a range of guiding principles designed to stimulate the repopulation of central districts by re-establishing broken connections to the inner city and the river, to double the 2020 resident population of around 20,000 (3.5% of the city's population) by 2050.
Liveable and sustainable communities will be prioritised through reduced reliance on vehicles for transport in favour of active travel and expanded public spaces, pivoting away from discredited recent development.
Outlining the need for action the report states: "... neighbourhoods suffer from issues, such as; severance from the city centre by the M8, (Anderston, Royston), vacant land and derelict land, (Port Dundas, Tradeston), or traffic dominated streets, few facilities and lack of investment in the public environment (Cowcaddens, Townhead, Laurieston) and present an opportunity for urban repair and renewal.
"By contrast, more recent (2000's) housing developments have not contributed towards the creation of community; often being ad hoc isolated blocks with poor access to everyday shops, and lacking a community focus and walkable environment (as in Tradeston and Lancefield Quay).
"Many student halls of residence are in similarly isolated blocks that lack local services or do not integrate well into their community (such as Townhead)."
To remedy this priority will be given to the redevelopment of vacant land and buildings and the conversion of disused floorspace, particularly heritage assets. Work will also focus on positioning the city centre as a 'day out destination' with new leisure opportunities offered by the establishment of a river park plugged into a 'green grid' of walking and cycling routes.
Efforts will also be made to improve crossings and the environment around the M8 with a focus on new planting to 'green the grey' of the built environment.
Back to May 2021