Edinburgh brewer puts its best foot forward
April 27 2021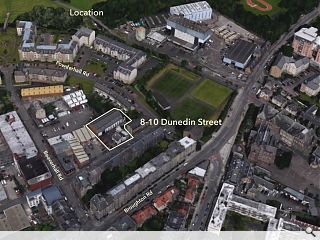 Signature Pub Group, owner of the Cold Town Beer brand, is set to expand its home within the Beaverbank area to the northeast of Edinburgh city centre, to form a new warehouse, visitor centre and shop.
Work will entail the demolition of an existing office building at 8-10 Dunedin Street to be replaced by a bespoke visitor centre to facilitate organised tours of the brewery.
Overseen by Ian Forbes Architect the front of house addition will graduate from the industrial main brewery to its tenement neighbours, rising through two storeys under a cross-gabled roof.
In a statement of intent, the architect wrote: "Designed to match the scale of the existing buildings, the extension has two storeys and a cross-gabled roof. The two-story portion of the extension that connects with the brewery building will have an industrial feel while the front area of the extension will reflect the existing streetscape. It will be built up the border of the site to match the existing buildings and styled to match the residential elements on the street."
Behind a sandstone frontage, a combination of brick and high-level glass block windows will be used to connect with the existing brewery.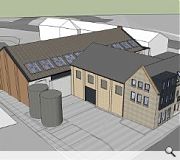 The new addition will graduate in scale from tenements to warehouse
Back to April 2021