Neglected Water of Leith beauty spot could host self-sufficient homes
April 22 2021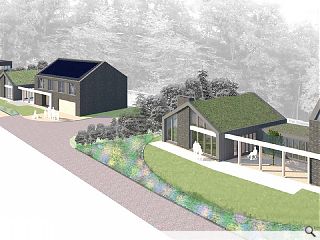 A long-vanished 18th-century lint mill on the banks of the Water of Leith has become the subject of a new housing application led by Juniper Projects and Fouin + Bell Architects.
Latterly utilised as a storage yard since the 1980s the picturesque plot has been left underutilised, presenting an opportunity for the team to insert four energy-efficient homes with green sedum roofs that will employ rainwater harvesting, solar panels and air source heat pumps.
Sustainability credentials could be further bolstered by harnessing the power of the river itself by installing a small hydroelectric plant.
The 1.18-hectare brownfield site is bordered by an established cycle route and will host a mix of properties finished in dark grey multi brick, arranged linearly along a bend in the river.
In a background statement, the applicant wrote: "The owner aims to develop the as a landscape lead design development of four houses to create a natural environment that replaces the unsightly storage yard.
"The four homes proposed will be set in heavily landscaped grounds which are designed to provide a naturalistic environment to take advantage of the beautiful secluded sight with superb views along the Water of Leith."
Nestled in a secluded valley behind Juniper Green village five miles to the west of Edinburgh city centre, the project has been scaled back from nine individual properties as first envisioned and is not considered to be a flood risk by SEPA.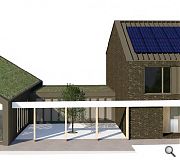 Generous homes will make the most of their riverside location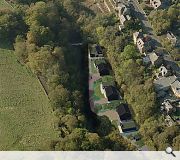 The rare patch of level ground sits at the foot of an embankment downriver from a weir
Back to April 2021