Former Shettleston Primary site to host 44 homes
April 21 2021
The former St Mark's Primary School site in Shettleston is to provide 44 homes for social rent after plans were approved for its renewal.
Shettleston Housing Association has asked JR Group to serve as design and build contractor for the delivery of a range of apartments, houses and cottage flats on land overlooking Tollcross Park.
Delivery is due to commence this summer on the energy-efficient homes, which have been designed by architect Anderson Bell & Christie to meet the city's Gold Hybrid standard.
Lesley Scoffield, Chair of Shettleston Housing Association, said: "St Mark's has had a few false starts and we're now really looking forward to transforming this area into much needed, larger family homes that, we hope, will complement the established neighbourhood in this part of Shettleston."
Accommodation will be layered upon two plateaus divided by a central retaining wall, with each portion having an independent entry.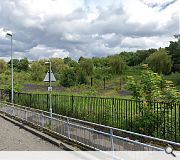 The former school has already been demolished awaiting development
Back to April 2021