Plans filed for Chryston health & education campus
April 16 2021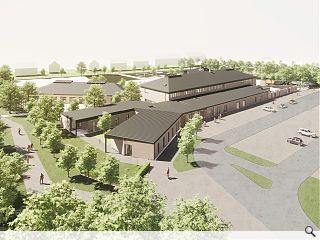 Ryder Architecture has submitted plans for a combined primary school and health clinic at Chryston, North Lanarkshire, on behalf of Hub North West.
Chryston Primary and Community Health Clinic is a joint initiative by North Lanarkshire Council and NHS Lanarkshire to provide a modern learning and health environment complete with sports facilities, gardens and a playground. The partnership aims to reduce inequalities and raise attainment by tackling issues related to poverty, health and education simultaneously.
This approach involves the formation of a 'campus landscape' of defined spaces marked by clear entrance points and privacy buffers delineating public, private and semi-public areas.
Outlining the chosen final form for the campus Ryder wrote: "The larger volumes within the shared spaces pull this up to be a double-height space. The teaching wings bend inwards to better frame the playground and open up the different garden areas adjacent to the shared spaces. The health accommodation opens up to lead visitors into the entrance as well as creating a private wellbeing garden.
"The school roll is projected to decrease over the lifespan of the building and therefore designing for repurposing and adapting part of the building to serve an alternative function has been one of the objectives from the project outset."
Inspired by the long-gone kilns of the former Heathfield Fireclay Works sculptural roof lights stud the Kalzip standing seam ceilings, with brick being the natural choice for the primary facades.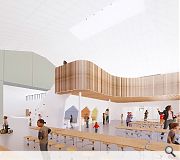 A double-height dining hall sits at the heart of the campus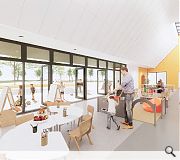 Splayed classrooms open onto landscaped grounds
Back to April 2021