Coatbridge school to stand as architectural 'object' in suburbia
April 1 2021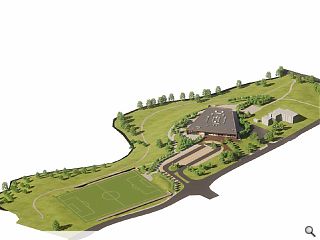 Norr Architects are taking the lead on the construction of a new school to replace the existing Sikeside and Carnbroe primaries in Coatbridge.
As part of a broader upgrade of North Lanarkshire schools the new Carnbroe & Sikeside campus will consolidate both schools alongside an early learning centre with a total capacity of 584.
Conceived as an object building within the suburban landscape the architecture seeks to establish a sense of place, complemented by a landscape strategy overseen by Hirst.
Built into the slope of the site the main frontage will sit on the upper ground floor around a centrally positioned entrance and covered civic space, with semi-open plan cellular classrooms arranged around the perimeter and interior floor to ceiling windows offering a view down to an assembly hall below.
Asking planners to approve the design Norr wrote: "Our team believes that this building provides North Lanarkshire Council a genuinely compelling blend of quality and value contained within a simple, site-specific form which generates a very strong sense of place."
Externally the buff brick school will be wrapped in a bronze coloured metal with sloped flanks at either end intended to instil a sense of dynamism.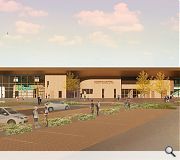 An oversailing bronze roof will provide a covered perimeter civic space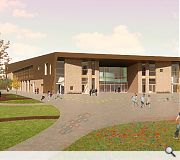 Linear rooflights will flood interiors with light
Back to April 2021