At your service
October 3 2008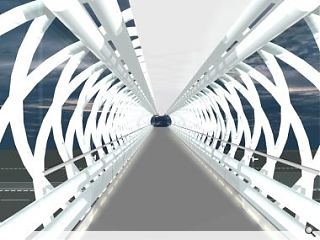 Britain's largest crane is being deployed at Harthill service station in North Lanarkshire, closing the busy M8 between Junctions four and five from 1900 on Friday through to 0600 Saturday.
The gargantuan crane is required in order to winch a 230 tonne footbridge into place adjacent to the current structure, favourably described as "odious".
Further closure will be required by the end of the month to take down this existing link.
The elevated link will take the form of an innovative spiral structure formed from tubular steel, a glazed walkway and aluminium silver paint. Prefabricated off site the structure will be delivered in sections prior to welding on site.
The service station is a well known landmark for travellers, marking the mid way point between Glasgow and Edinburgh.
Back to October 2008