Murphy's law
October 3 2008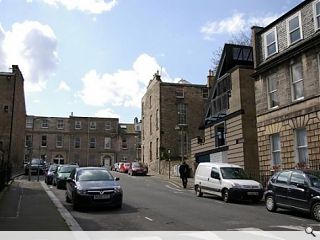 In a dramatic turn of events Richard Murphy's controversial proposal for a private residence has been granted planning permission, against the advice of Edinburgh Council's own officials.
The striking contemporary design had elicited a fevered reaction from many onlookers with opponents of the scheme deriding the architectural quality presented. This was countered however by an extraordinary outpouring of support from the architectural community, increasingly frustrated by the wheeling out of tired World Heritage arguments by council officials.
Edinburgh World Heritage officials are notably keen to distance themselves from the argument, pointing out that the application has no impact on the outstanding universal values of the World Heritage Site.
Flabbergasted Murphy will occupy the bookend building with his family upon completion.
The move reflects a softening of stance within Edinburgh's corridors of power to the value of contemporary architecture and follows the recent approval of Caltongate. Whether this is indicative of a new found appreciation for modern architecture or a reflection of increasing desperation in stimulating construction activity is not clear.
Back to October 2008