RGU appoints two high-profile Honorary Professors
October 3 2008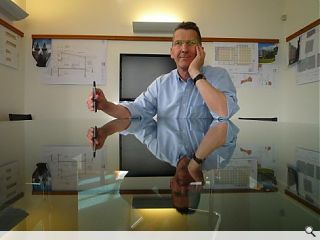 The Scott Sutherland School of Architecture and Built Environment at The Robert Gordon University, Aberdeen has appointed two industry professionals as Honorary Professors.
Robert Leslie, Business Development Director of Robertson Construction Eastern Limited and Douglas Forrest, principal architect and director of Acanthus Architects bring with them distinguished careers in industry to the benefit of the school.
Rob is a member of the Chartered Institute of Building (CIOB) and Chairs the Grampian Construction Industry Training Group whilst participating in the Aberdeen City Council Construction Industry Development Forum.
Douglas is a Fellow of the Royal Incorporation of Architects in Scotland, and a member of the Royal Institute of British Architects.
David McClean, Head of RGU's Scott Sutherland School, said, 'The abundance of notable historic architecture regionally and nationally, coupled with an increasing demand for the creative reuse of existing buildings driven by the wider sustainability agenda, underscore the importance of Douglas' expertise to the development of tomorrow's architects and construction professionals'.
David continues, 'Rob's contribution to the School is pivotal to developing and achieving the University's strategic objectives, in particular, his contribution to research, commercialisation, the development of corporate courses, and ensuring that course content reflects the needs of the modern construction industry.'
Both Rob and Douglas' appointments commenced on 1st August 2008 and will run for three years.
Back to October 2008