Harmeny achieve consent for forest glade learning hub
March 26 2021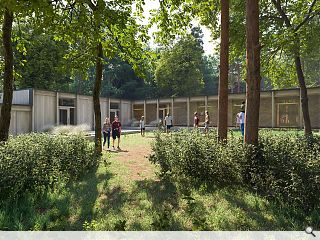 An innovative £1.95m learning hub is to be built by the Harmeny Education Trust following planning approval for the competition-winning design.
Led by Loader Monteith Architects with SJM Architects the classrooms will sit within the curtilage of the B-listed main school building in Balerno, Edinburgh, providing a complementary space for group learning and community engagement for children who have suffered early years trauma.
New accommodation will include vocational classrooms, art and workshop spaces, and a bike workshop as well as a series of multi-functional internal and external areas to support the expansion of Harmeny's specialist care and education services.
Matt Loader, director of Loader Monteith Architects, said: "The building looks to make the most of a very beautiful glade in a clearing of trees with its 'L' shaped plan and covered external areas to create a sense of enclosure and intimacy within the woodland setting.
"The existing trees will provide cover and a sense of enclosure for the outdoor classroom spaces. The learning spaces are designed to look out into the woodland and provide a sense of peace and tranquillity for the students. This will support Harmeny's highly experiential model of learning and create an uplifting environment for students and staff alike."
The project team includes Harley Haddow, PMP, Armour Consulting, Wardell Armstrong and Principal CDM.
Completion is expected by summer 2022.
Back to March 2021