A&DS launches 10-year wellbeing strategy
March 18 2021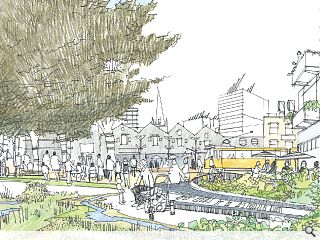 Architecture & Design Scotland has launched a 10-year strategy that sets out how future buildings and places can benefit people and communities.
The organisation will spend the coming decade working with partners to ensure that everyone can benefit from proximity to green spaces and active travel routes within walkable urban neighbourhoods.
A&DS chair Ann Allen said "The significance of place – our buildings, infrastructure and spaces, and the way we use them to live our lives – has been highlighted like never before by the Covid-19 pandemic and the on-going climate emergency.
"Our role will be to stimulate a step-change in how Scotland's places are planned, designed, delivered and sustained."
Transferring these principles into built reality the body will coordinate approaches from the public sector to incorporate these goals when delivering services, places and infrastructure.
The public body will also coordinate input from the people who will experience these spaces to ensure that their thoughts can help guide the design process.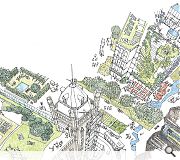 Future town illustration by Richard Carman showing how green and sociable meeting places can be woven into existing built environments
Back to March 2021