Longstanding Broomielaw gap-site to host apart-hotel
March 18 2021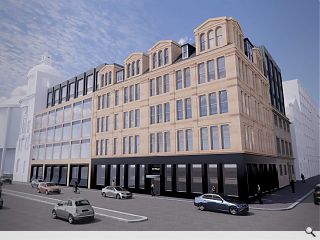 A long-standing gap-site on Glasgow's riverfront could be plugged by a new hotel development led by Mosaic Architecture & Design.
A proposal of application notice has been filed by HMH One Clyde for The Broomielaw Hotel at the junction with Oswald Street, combining conversion of the B-listed Oswald Chambers and construction of a new-build element on a gap site adjoining the A-listed neoclassical ClydePort building.
This would deliver a new city centre apart-hotel topping out at six stories to match the datum of adjoining properties. Outlining their indicative approach Mosaic wrote: "The proposed design has been further developed to evolve the classical language of the adjacent properties by adopting the established rhythms and datums. The facade presents a 2-3-2 vertical rhythm subdivided by horizontal elements which are set out to align with the datums of Oswald Chambers.
"The recessed upper floors are allowed to be more expressive vertical elements in a lighter material in reference to the expressed dormers and triumphant dome of the surrounding roofscape."
Feedback on the proposals is invited through to 24 March.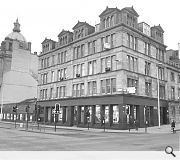 The development would establish a continuous frontage on this section of the Broomielaw
Back to March 2021