Leith housing drive continues with 285 apartment plan
March 17 2021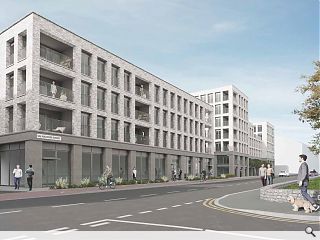 Comprehensive Design Architects (CDA) and Russell Logistics have filed outline plans to build a mixed-use development on a linear tract of land on Salamander Street, Leith.
The move would sweep away a disparate collection of commercial units in favour of 285 apartments on a 3.4-acre site, establishing a more cohesive townscape in an area that is rapidly developing as a residential neighbourhood.
This will be accommodated within seven separate buildings framing new north-south footpaths and roads opening up sites to the north alongside enclosed courtyards.
Varying in height between four and five storeys the development will incorporate undercroft parking with amenity spaces provided on the upper deck.
In a planning statement, CDA wrote: "The varying scale of the proposal looks to add visual interest to the design whilst minimising any potential canyoning effect on the narrow width of Salamander Street.
"By increasing the height of the buildings the overall built footprint on the site can be reduced thus freeing up space for external amenity as well as pedestrian, cycle and vehicle access. Although accommodation at ground floor is limited due to flood levels, upper ground floor flats will have private gardens providing amenity as well as defensible zones."
A limited set-back frontage to Salamander Street reduces the number of single-aspect flats facing the thoroughfare and helps to widen the street.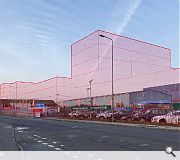 A varied frontage will shield a series of interior courtyards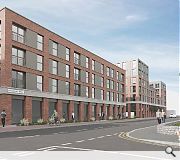 A variety of facade treatments are being investigated for the final build, here looking west along Salamander Street
Back to March 2021